In a Nutshell
RSVP is one of Australia's most active online dating sites, which attracts singles of all ages. The majority of users are aged 25 and over, with the most singles aged between 25 and 45. The site does not encourage one kind of relationship over another, and it can be used for finding casual romance, as well as long term commitment and marriage. It is suitable for gay dating, but there is currently no option for bisexual dating.
pros
User base of over 2 million Australian singles
Multiple membership options
Mobile apps for iOS and Android devices
cons
Stamps are needed to send initial messages
No video/audio chat
RSVP Visit Site
Ideal for:
Anyone who wants to date on both desktop and on the go
Singles over 25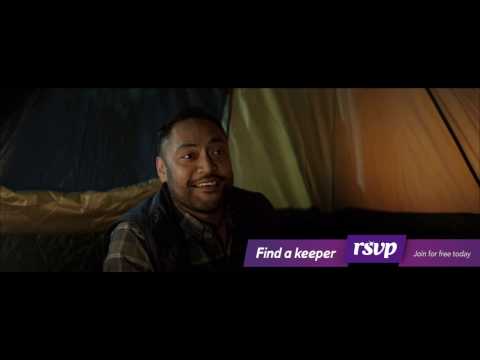 User Base
RSVP is one of Australia's most active online dating sites, which attracts singles of all ages. The majority of users are aged 25 and over, with the most singles aged between 25 and 45. The site does not encourage one kind of relationship over another, and it can be used for finding casual romance, as well as long term commitment and marriage. It is suitable for gay dating, but there is currently no option for bisexual dating.
The Signup Process
It takes only a few minutes to sign up to RSVP with the option of using a Facebook account - a real time-saver. Moreover, all of the information on the Facebook profile can be used to build a dating profile. This makes the process quick and easy, and also shows that these members are trustworthy and gives them a little more confidence when reaching out. If singles prefer, they can use their email address, but they will be required to manually enter a few details about their background, such as age, email and password, location, gender, and some information about their physical appearance. At this point, users have the opportunity to include some info about what they are looking for in a match, for example the age range they want to meet, the distance they would be willing to travel, and whether they care about divorce, children, or lifestyle habits such as dating a smoker.
Once signed up, singles can head to the profile page to include more information about themselves and their ideal match. They can also create a profile headline, enter some deal-breakers, and add photos.
Features & Tools
One of the best extra features at RSVP is the algorithm that works with the member's reply rate. While some dating sites are full of singles with inboxes overflowing with messages they haven't read, RSVP incentivises replying to messages.
The better the 'reply rate', the higher a member will appear in the search results. As a result, RSVP is a site where singles are likely to get a response to their messages. Another outstanding area of RSVP is the DateHub, where singles can read funny and informative articles, find fantastic places to take their dates, and get some inspiration for new dates or activities to share. There are events, travel options and trending topics in the world of dating to explore, so users should make sure to check it out.
RSVP offers mobile apps for both iOS and Android devices which make it easy to sign up, build a profile, chat to other members, and use all of the site's functionality on the move.
Matchmaking and Search
The more a user uses the website, the better their recommendations and overall experience will be. The matches are generated each day, and are two-way matches - meaning that both members match each other's profile criteria. This is a smart way of matchmaking, ensuring that your profile doesn't include 'deal-breakers' for the other person, and vice versa. Users can fill in their 'Ideal Partner' criteria, which narrows the results down to exact matches for what they're looking for. Additionally, users can improve the quality of their matches on the site with the fun personality quiz.
Singles who prefer to do the matching on their own terms should check out the search bar. Here they can save searches or create new ones, looking for anything from physical appearance and identity, to lifestyle, education, children and pets, or religion and politics. But be careful not to narrow it down too far, so as not to restrict your search results. Members can also search by username, keyword, or whether their profile suits the other persons' ideal match criteria.
Communication
The first step when users see a profile they like is to use the free kisses system. A kiss is similar to a like or a wink on another dating website, and can be used to simply and easily express interest in any other RSVP member. They can respond with their own kiss, check out your profile, or reach out with a message.
RSVP has a clever system where sending a kiss can also unlock additional content for the member who receives it, such as hidden photos or a request for them to complete the personality quiz.
The RSVP mailbox is the next stage for getting to know one another. Emails can be sent and received using stamps at any time, and will be needed for the first message to any other member of the site. If they are currently online, this can be an instant chat as well. One stamp unlocks unlimited communication with a particular user for 30 days. Members do not need stamps to reply.
A clever by-product of the 30-day system is that the site really does encourage users to move to the next stage when the time is right. If you have been chatting online with someone for a whole month and things are going well, why not suggest a safe phone call or a meet up, rather than using another stamp to keep chatting online for the next month?
How User Friendly is RSVP?
There is a lot to be said for the RSVP interface on both desktop and mobile. It takes seconds to sign up with Facebook, or only a minute or two with an email address. The site lays out everything members need to know from the home page, and includes some tutorial pop ups at various stages to make it simple to navigate and make the most of the features. There is a thorough FAQ section for help and support. However, if this is your first entry to online dating, it would be natural to feel overwhelmed by such a feature-rich experience. The pricing structure might appear slightly complicated on this busy and active site.
Safety – Does it Come First?
If users upgrade to Premium, they will be able to have full and total control of their visibility on the site, allowing them to browse anonymously, or hide their profile from anyone at any time. Even on a basic profile, users can still block members, and have them not appear in the search results.
Date safety tips are available all around the site, and link quickly to the more in-depth safety guide which has tons of great support for protecting yourself both on- and offline. We would love to see some options for safe phone calling or identity verification, other than using Facebook to sign up.
Help & Support Availability
The premium subscription also unlocks premium support options. For standout or basic members, there is a thorough FAQ section with many categories which can help them find the support they need. From creating and editing the profile, to contacting members, handling account information, and communication tools, there exists a category for anything users might need help with. The FAQ section is also the place to learn more about apps, events, and technical difficulties.
Contacting the customer support is done via contact form on the site. Users should include the problem, their username, and email address. To make things simpler, they can also upload attachments to the query, such as screenshots of any problems they are having on the site.
Success Rate
RSVP claim to be responsible for 1 out of every 3 relationships which meets online. The site is full of success stories of singles who found great matches or fell in love and got married after using RSVP. It has a lot of success due to the importance it places on reaching out with the initial message. Rather than mindlessly sending quick hello messages to dozens of singles, on RSVP it costs a stamp every time users send a first greeting.
The site has 1,200 new members every day, over 40,000 conversations, and 1.5 million users actively use RSVP every single week.
Plans & Pricing
Stamps can be bought in packages, ranging from 3-24 packs. The cheapest cost is the largest pack, for only $5 per stamp, while 3 stamps will cost $45. The Standout membership lets you receive a highlighted profile, allows you to read receipts for your message and enjoy an ad-free mobile experience. With this membership plan, stamp expiry can be extended. Premium gives users free rein to control their own visibility, as well as priority customer support.
About RSVP
RSVP has been around for more than 10 years. As the largest online dating site in Australia, it has a genuine feel ever since it was founded on Valentines' day 1997 by Jay Hennock and Hannah Schwartz. They now have more than a thousand new members daily, and are known to be the most popular dating site for singles looking to find a great match online. Founded by Australians and now owned by Fairfax Media, they offer powerful mobile apps for iOS and Android devices and a fantastic desktop experience for singles Down Under.
The Bottom Line
RSVP is the dating site which never sleeps. 1.5 million active members send tens of thousands of messages daily. There is no 'hi how ru' messages, as a stamp is needed for every new interaction. This creates a more genuine and careful atmosphere of singles who are truly looking for the real deal. The pricing can be complex, so make sure you know exactly what you want from the site before you subscribe. Extensive profile build, good matchmaking tools, and simple communication options make this a winner.
Ready to Try RSVP?
If you want to take dating seriously, really get to know other singles online, and enjoy a seamless mobile dating experience, RSVP is a great choice. It is easy to see why RSVP is Australia's most popular dating site for singles looking for love.
RSVP Visit Site